ANY
TROUBLE?

Headquarters
I want to cut the workforce that handles a lot of phone call, FAX papers, and invoices for B2B transactions

I need to keep catalog updated in real time

I want to save the cost for frequently changed catalogs and their deliveries

I want to track the activities of our customer services

I want to educate new staff easily as to our products

Sales staff
We have so many products thus sales staff can't remember everything

I have many tasks for transactions by phone, FAX, and papers and I want to focus on promotion

It is difficult to recall detailed information on all products

Paper catalog is too heavy to carry around

Customers
Frequently wrong delivery happens through phone call, FAX transfer

I don't want to call sales staff every time to order because I always order the same products

I might not have up-to-date Catalog so products and prices may differ
HOW IT
WORKS?
GulfNet app is a B to B platform for wholesalers and manufacturers. It can manage all the products information including prices for loyal customers, promotional prices. It has catalog function, e-commerce function, online chat and more.
It helps to reduce time and cost for product information management and it is an efficient way for wholesalers to introduce their large number of products and get orders on a mobile device.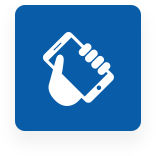 Gulfnet App
For B2B transaction management
Headquarters
As a proposal material during a customer visit
Sales staff
Application for your company
For product catalogs, B2B ordering management
Customers
As materials of product information
Customers' store staff
Application for your customers
FEATURES

Customized Catalog and Online Order
A customized catalog can be created for each customer. Different products and prices can be set-up. Clients can order easily.

Online Customer Service with Chat Function
App has an online chat function which makes easy to handle all inquiries related to products and orders. Headquarters can track all the communication, and can take preventive actions to mitigate any risk.
All Product Information is in the App for Sales activity
Sales staff can store all the necessary information related to sales activity. They can search anything instantly in the app.
Educate new staff
Even a new sales staff can be as productive as an experienced sales staff by using this app.

Easy to search
Install the App to your customers' devices. Customer can search and see the products information. Good for promotional activities by store's staff.
TESTIMONIALS
Frozen food manufacturer "O"
SETUP & MAINTENANCE
To use our products catalog app effectively, the setup & maintenance of product information is extremely important.
Do you have product information and images as digital data?
In the beginning, you have to register your product information (images, descriptions, categories, and tags). Then you can bind your product information to catalogs, connect them with your customers. The preparation of the digital data for your products is a pre-requisite task.
Is there any person responsible for managing your product information?
It is essential to keep the product information, price information, and customer information up-to-date. To carry out the maintenance continuously, you should assign a person responsible for the work.
FAQ
Which smartphone or tablet can be used for GulfNet products catalog app?
GulfNet products catalog app can be used on smartphones and tablets running on iOS 10 or later, Android 5.1.1 or later.
How can I install GulfNet products catalog app on my smartphone or tablet?
GulfNet products catalog app can be downloaded free of charge from "App Store" and "Google Play."
Can anyone view the products catalog and place an order if GulfNet product catalog app is installed?
Once GulfNet products catalog app is installed, you can only browse the sample products catalog and cannot place an order.
To be able to place an order, you need to obtain the approval by contacting Wholesaler or Manufacturer who offers the products catalog.
You can log in with the issued user ID and password, browse the official product catalog and place an order.
How do I make products and catalogs displayed in GulfNet product catalog app?
GulfNet provides Wholesaler and Manufacturer as a management feature to register products and catalogs displayed in GulfNet products catalog app.
Using that management feature, Wholesaler and Manufacturer register product information and make catalogs. They also register special prices for each customer and special campaign prices.
The management feature also has a function to register the user IDs of your customers that can use GulfNet product catalog app.
Once you register this information, the customer will be able to log in to GulfNet products catalog app with his user ID, browse the products catalog for himself and place an order.
The management feature includes functions for listing order information, functions for listing inquiries and answering, etc., enough for Wholesaler and Manufacturer.
How many products can I register? How many catalogs can I make? How many customers can use this app?
There is no upper limit on the number of products, the number of catalogs, the number of customers. But we recommend that the number of SKU should be between 1,000 and 5,000 for the good usability of the app. We also recommend that the number of customers should be between 100 and 2,000 for the good performance of the app.
How much will it cost to use GulfNet products catalog app?
Wholesaler and Manufacturer distributing products catalogs are charged monthly fees for the basic usage plus usage fee per user ID of your customers.
Customers can use the app free of charge.
If you would like to know the basic usage fee, the fee per user ID, please contact us at the "Contact Us" page.
What kind of work is required before publishing the products catalogs with GulfNet product catalog app and making it possible to receive orders?
After placing an order to GulfNet, you have to register all of the products information with the management feature and then create catalogs.
The time required for these tasks varies depending on the number of products to be registered and the number of catalogs to be created. Also, if digitized product information already exists in some form, time can be saved. GulfNet can undertake these preparation tasks with additional fee.
We recommend that you should assign a person responsible for the initial registration and the maintenance of the product information in our app.
I would like to know more about GulfNet products catalog app.
Please request the detailed information at "Find out more about the App!" section.
Please contact us at the "Contact us" page. We will be happy to answer your questions.
I would like to see a demo of GulfNet products catalog app.
Please contact us at the "Contact us" page. We will come to your office and give a demonstration.
ABOUT
US
For 25 years, as the top ICT(Information and Communication Technology) powerhouse in Japan, we have provided the most advanced ICT platform for retailers & restaurants.
We provide our ICT platform in ASEAN region. Please contact our subsidiary near you.

GulfNet Singapore Pte. Ltd.

GulfNet (Thailand) Co., Ltd.